CodeCharge Studio 5.1
now with the Ribbon GUI and much more
Visual Rapid Web Application Development and Web Reporting Tool
Whether you're developing data-driven interactive Web sites or enterprise Internet and Intranet systems, CodeCharge Studio provides the fastest way to build your applications with support for virtually all databases, web servers and web technologies. With new features like AJAX, Web Reporting, Flash Charts, Menu Builder, Online Calendar and Gallery Builders, it's now easy to harness the full power of the Web.
Features
Visual IDE and Code Generator
Rapidly build web applications by generating robust, scalable programming code in ASP.NET (C#), ASP, PHP, Java Servlets, JSP, ColdFusion and Perl.
Database-to-Web Converter
Convert any database into a Web application in just a few minutes.
Web Reports, Calendars, Galleries, Charts, Ajax and more...
Transform yourself into a Web guru by using our powerful development environment for quickly creating advanced Internet applications.
Pre-built Solutions
Customize and enhance any of the examples included with CodeCharge:
Community Portal
Online Store
Task Management System
Employee Directory
Bug Tracker Forum / Message Board
Benefits
Reduce Development Time
Eliminate time-consuming programming tasks and build scalable, robust Web Applications in a fraction of the time.
Minimize Errors
Avoid costly programming errors and misspellings by generating consistent, well-structured code.
Reduce Learning Curve
Analyze and modify generated code to learn web technologies and take on programming projects in any environment.
Sample Applications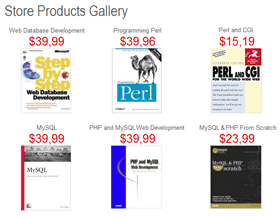 Download Free 20-day Trial
Purchase (starting at $139.95)